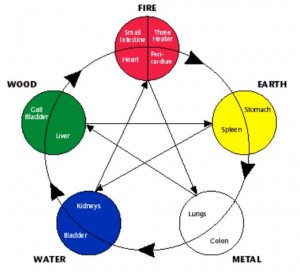 Five Element Treatment Protocols of Asian Medicine
The Five Element Theory of Asian Medicine recognizes that all Organ Systems work with each other throughout the 24 hour cycle of each day to keep our body in good working order. Each Organ System works on an hourly schedule, and in its turn creates the enzymes and hormones it has responsibility for, including taking in its daily nourishment and conducting cell reproduction and tissue repair.
When the organ before it, called its "MOTHER" is weak, it cannot receive proper energy, and it also becomes weak, unable to give energy to its own "CHILD", the next organ system in line. Thus the entire system becomes affected and illness occurs.
It is the goal of the Five Element Practitioner to determine which of the organ systems is the cause of the current illness, and then to treat the whole body with energetic forms of healing including appropriate Nutrition Therapy, based on each person's condition — as their body relates to each Season, Locality, and their Pulse Diagnosis.